How Advertising Works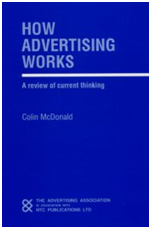 This classic book (now available only in PDF format) provides a serious examination of advertising issues and practices. It is essential reading for everyone involved in the advertising world and professionally interested in the ways in which advertising works.
The purpose of How Advertising Works is to try to achieve the clearest possible understanding of advertising. It considers such questions as: Does advertising drive consumer demand, or merely respond to it? Is advertising a tool which companies (and governments) can use to manipulate people? If not, what does it do? Can advertising effects be evaluated and be made accountable? Can we ever really forecast whether an ad will be successful? What do we mean by terms like 'long-term effect', 'added value', 'involvement' or 'wearout'? What do we actually know about how people respond to advertising?
FOR PAS MEMBERS: £26.10 + p&p
For Non-Members: £29.00 + p&p
.