The True cost of cutting adspend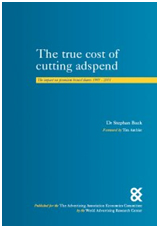 A groundbreaking analysis revealing the relationship between brand strength and advertising support
Confirmation that advertising helps ensure brand success
Advertising vs price-cutting: the implications for market
How category leaders follow
Why some premium brands have lost market share since 1997
The True Cost of Cutting Adspend provides conclusive evidence that premium brands retain or strengthen category leadership through sustained advertising support and, conversely, lose market share when advertising budgets are reduced or diverted into price promotion. The report also shows that in recessions, the winners tend to be those brands that maintain advertising support while less successful brands reduce advertising expenditure. Based on an analysis of Taylor Nelson Sofres Superpanel sales data and ACNielsen MMS adspend for 52 brands in 26 grocery categories between 1975-2001, Stephan Buck's report provides a wealth of information in a concise, quick-to-absorb, format.
The report examines:
The long-term link between adspend and subsequent brand success. During 1975-2001, category leaders in general maintained their dominant position as a result of continuous advertising spend – despite a steady rise in private label sales by the major supermarket
The short-term advertising strategies of brands in recessions. In all three recessions between 1970 and 2001, category leaders tended to outspend their competitors
The impact of recent changes in the retail marketplace. Since 1997, there has been a growing emphasis on price-cutting under the banner of every day low pricing (EDLP). During the same period, key packaged goods sectors slashed their advertising spend – particularly on TV. The report shows that the brands that did the best in terms of market share cut their adspend
Stephan Buck's report provides compelling evidence to brand owners that communicating brand messages on a steady basis, particularly via TV advertising, is the surest way of building and maintaining market share.
FOR PAS MEMBERS: £67.50 + p&p
For Non-Members: £75.00 + p&p
.