Advertising Works 16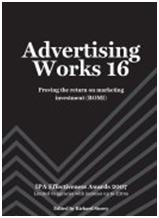 Advertising Works 16 showcases 18 imaginative, successful campaigns from around the United Kingdom.
The case studies are all prize winners from the IPA's Effectiveness Awards 2007, sponsored by Thinkbox, the prestigious competition for UK agencies with incomes up to £20 million. This scheme runs in alternate years to the IPA's original and highly regarded biennial awards.
Free DVD of the creative when you buy this book
Supplied by Xtreme
Each case study describes the objectives of the campaign, its strategy, media thinking and execution. The results of the campaign and its effect on sales or behaviour are quantified and analysed. A wealth of valuable data about the brand and its market is provided. The case studies provide ideas for tackling a variety of objectives, product categories and target audiences. They show 'best practice' in action and prove the value of investing in communications.
Above all, Advertising Works 16 is a fascinating collection of case studies that demonstrate the value of big thinking in deploying budgets to change behaviour and add value.
FOR PAS MEMBERS: £85.5 + p&p
For Non-Members: £95.00 + p&p
.