Accountable Advertising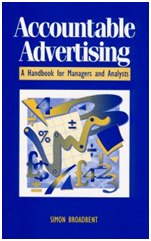 Today's marketing directors need to do more than determine how much should be spent on advertising. They need to justify the expenditure.
Accountable Advertising gives everyone connected with the advertising budget – marketing directors, finance directors, chief executives, analysts, advertising agency account managers and planners – the tools they need to make properly informed decisions.
This practical handbook describes a methodical approach to making advertising accountable. It examines the whole process from understanding what accountability means, what advertising can do, best practice in campaign evaluation, to a description of the methods analysts use to understand sales and other data. A wealth of examples based on realistic situations help to illuminate the process.
FOR PAS MEMBERS: £26.10 + p&p
For Non-Members: £29.00 + p&p
.