When to Advertise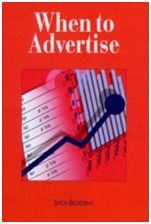 When to Advertise explains how to allocate an advertising budget over time. A media schedule written using the ideas in this book may save hundreds of thousands of pounds.
The book assumes that the decision to advertise has already been made: the problem is then how best to schedule this advertising in order to maximise sales effectiveness.
Part 1 of the book details the author's own solution, resting on the belief that no simple media planning theory – for example, flighting, bursts or continuous cover – can possibly suit all brands all the time. The most effective schedule can be written only by taking into account each individual brand's situation and objectives, including its budget, the copy, the values and costs of different weeks of advertising, decay in the effects of advertising and your view of how advertising will affect sales. The author recommends a practical process, which allows the media planner to take into account all the relevant factors to produce the optimal schedule. Advice on allocating the budget across regions is also given.
Part 2 reviews other well-known theories about media planning and scheduling, beginning by detailing early work by Colin McDonald and the development of other ideas of how advertising works. Finally, the author discusses the implications of important recent work on scheduling by John Philip Jones, Walter Reichel, Erwin Ephron, Andrew Roberts and others.
When to Advertise is a highly important contribution to our understanding of media scheduling. It is required reading for everyone connected with spending the advertising budget, in particular agency media directors, media planners and media researchers, as well as marketing directors and advertising managers.
FOR PAS MEMBERS: £26.10 + p&p
For Non-Members: £29.00 + p&p
.