Why your direct marketing doesn't work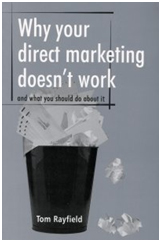 "Extremely funny but also instructive. Salutary reading for all perpetrators of junk mail." Drayton Bird
"Hilarious reading." Bernard Levin, The Times
"This book will make you laugh. If you are in the direct mail business it will also make you cry – with embarrassment." David Ogilvy
"Comprehensive, informative, depressing and an invaluable series of object lessons for anyone trying to interest a consumer in a product, service or course of action." Consumer News
"A real pleasure to read and a real must for everyone in direct mail."      Rob Walter, Courtaulds Textiles
"I was unable to put it down… compulsory reading for all those contemplating direct marketing."      Ian Major, Marketing Director, Jaguar Cars
"Grimly fascinating reading… at best amusing and at worst terrifying."             Campaign
Why Your Direct Marketing Doesn't Work is two books about direct marketing. Each book contains salutary lessons for all direct marketing professionals.
Part One of the book is called 'Dear Personalised'. What is four feet high and weighs 110 lbs? Just one year's unsolicited mailshots to one family. This unique record tracks the 530 mailshots they received in one year.Read it to find out who gets binned and who gets read. And how you can make sure more of yours get read.
Part Two is called 'Dear Sir or Madam'. Today, up to 83% of all display advertisements invite a response from the readers. But what happens when you actually reply to 200 of them? How many advertisers never reply at all – or take 133 days to respond? How many follow up your enquiry? And what happens when you invite a salesman to call? Read it to find out how to make your direct response advertising more effective.
Why Your Direct Marketing Doesn't Work gives you 730 real-life case histories from which you can learn and profit. It is probably the most practical and useful guide to direct marketing ever written.
FOR PAS MEMBERS: £23.40 + p&p
For Non-Members: £26.00 + p&p
.