Advertising & Markets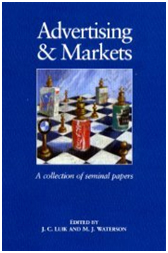 5 Years of evidence collected together in one single volume
Studies from the UK, Europe, United States and Asia
Special sections on Drink and Tobacco advertising
Advertising is often criticised on the grounds that it not only sells brands but also supports and expands the overall level of consumption of the products being advertised, whether or not this is the intention.
Thus, so the argument goes, drink advertising increases total alcohol consumption, food advertising induces people to eat more of the wrong foods, and tobacco advertising is one of the major causes of smoking.
However, the effects of advertising on markets, particularly mature markets, are more complex than this simple view would suggest. On a brand level, most advertising is designed to increase or sustain sales. But most brands are in competition with other brands trying to do exactly the same thing. Therefore, advertising will not necessarily cause consumers to buy more of a particular product, although it might influence their choice of brand.
This, and other factors, make the measurement of what advertising does, even at the brand level, very difficult. Despite this, the view that the combined effects of brand advertising expenditures in individual markets will lead to more sales of the product category remains widely held. These arguments are not just academic: calls for total advertising bans in certain product areas continue to echo round the world on a regular basis, and the subject is therefore of considerable importance to everyone involved in the business of advertising.
Advertising & Markets is a serious examination of the effects of brand advertising on markets, collecting together in one single volume much of the evidence that has appeared in the pages of the respectedInternational Journal of Advertising over the past 15 years.
The book is in three parts. The first section concerns the impact of advertising on markets in a general sense. The second and third sections deal with the evidence relating to drink and tobacco advertising – two areas where calls for advertising bans have been the strongest.
Advertising & Markets is not intended to answer every question on the subject but is a valuable collection of evidence on these important issues. It is essential reading for policy makers, advertisers, advertising agencies, academics, students and anyone with a serious interest in advertising and its effects.
FOR PAS MEMBERS: £28.80 + p&p
For Non-Members: £32.00 + p&p
.