How Public Service Advertising Works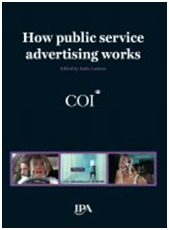 A fantastic analysis of best practice in achieving behavioural change through the positive power of advertising and communications."
Baroness Peta Buscombe, Chief Executive, Advertising Association
"This highly readable collection of case studies from the public sector has relevance for all marketers. By their nature, these campaigns need to go well beyond generating intent to purchase, into the domain of attitudinal and behavioural change. A challenging objective, impressively met."
Mike Hughes, Director General, ISBA
Public service advertising plays an increasingly important and high-profile role in many countries today.
A significant investment is made by governments and non-profit organizations to persuade people to give up dangerous or unhealthy behaviours, to take up new behaviours, to obey the law or simply to think differently about social issues.
At a time when the role and cost of public service advertising has come under the critical eye of the media and public, it has never been more important for practitioners to look critically at its effectiveness.
Written by senior advertising planners, this book describes
how public service campaigns are devised
how they are executed
how their effectiveness can be measured
The key chapters in the book are based on in-depth analysis of case studies from the UK IPA Effectiveness Awards, widely recognized as the most rigorous advertising effectiveness programme in the world.
The book is an essential source of ideas and practical advice for anyone using marketing techniques to change social attitudes and behaviour.
"As the leading US producer of public service advertisements, the Ad Council applauds this book for showing how advertising can bring lasting and positive social change."
Peggy Conlon, President and CEO, The Advertising Council
"This book is an invaluable aid and shares 25 years of learning within public service advertising. I recommend it to anyone with an interest in this area."
Andrew Harrison, Chief Executive Officer, RadioCentre
"The experience assembled in this book should make it essential reading for anyone involved in researching and developing public service campaigns."
David Barr, Director General, Market Research Society
"Outstanding. Very well written by experienced practitioners, full of evidence, practical frameworks and advice, and illustrated with rock-solid, real-world case studies."
Patrick Barwise, Emeritus Professor of Management and Marketing, London Business School
FOR PAS MEMBERS: £28.8 + p&p
For Non-Members: £32.00 + p&p
.